Some US individuals or businesses may qualify for tax exempt purchases. Below you'll find what we will need to process tax exemption:
Federal exemption
In order to document that a sale has been made to an agent of the US government, prepare one of these documents:
Federal tax ID certificate

Certificate of exempt status

Government voucher
General exemption
All other purchasers desiring a tax exemption need to provide us with:
A state resale certificate

Tax exemption certificate

Other acceptable proof of tax exemption




How to add tax exemption at check-out
You have the opportunity to add your tax exemption information on the second step during order check-out. After you fill out your shipping information and choose a shipping method, you will be prompted to move forward to the second page of check-out. Check the tax exemption box and then you will be prompted to select your exemption class.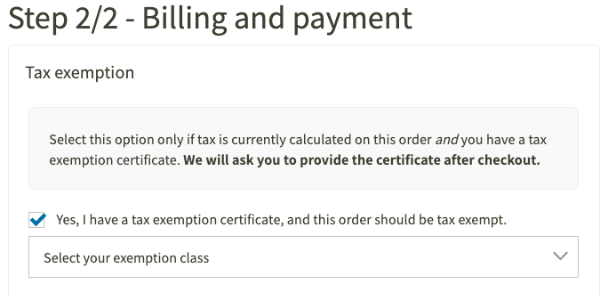 Once you complete checkout, further instructions will be emailed to you so you can provide us with the required certificate.