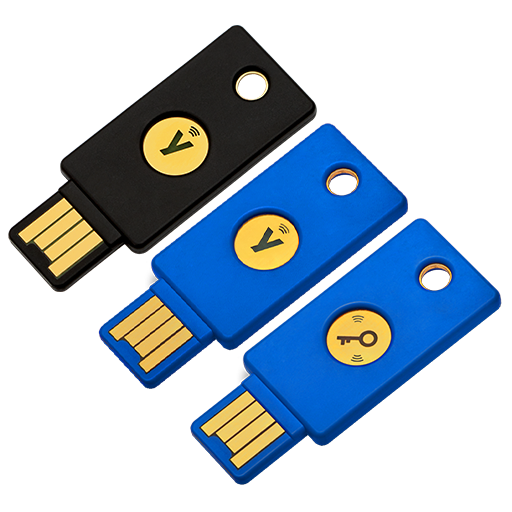 Note: This article lists the technical specifications of the Security Key NFC. If you're looking for setup instructions for your Security Key NFC, see https://www.yubico.com/start.
The Security Key NFC provides the FIDO2 application as well as the U2F application, and can communicate using near-field communication (NFC), allowing for greater flexibility.
Interface
The Security Key NFC uses a USB 2.0 interface as well as an NFC interface. All of the applications are available through both interfaces.
Applications
U2F
The U2F application can hold an unlimited number of U2F credentials and is FIDO certified.
FIDO2
The FIDO2 application allows for secure single and multi-factor authentication, and can store up to 25 resident credentials. These credentials, which are protected by a PIN, enable passwordless login, where the YubiKey, unlocked by a PIN and authorized by touch, can log you in to your accounts without entering a username or password. The FIDO2 application is FIDO certified.
To find out if an application is compatible with the Security Key NFC, browse to the Works With YubiKey Catalog, and in YubiKey drop-down, select Security Key NFC to only display services that are compatible with it.
Physical Specifications
Form Factor
Connector: USB-A
Dimensions: 18mm x 45mm x 3.35mm
Weight: 3.6g
Temperatures
Operational range: 0 °C to 40 °C (32 °F to 104 °F)
Storage range: -20 °C to 85 °C (-4 °F to 185 °F)