Regional fees
Yubico operates from the EU, UK, and US. Customs duties and VAT may apply to a shipment if the order is above the country's de minimis value. If your order is subject to potential customs fees, the Yubico.com Checkout will calculate those fees in the "Estimated import fees" section. Yubico will not collect these fees, however, the buyer (importer of record) will be responsible for them at time of importation.
Most orders ship to the UK duty-free. However, in some cases we will ship the product from Sweden. If this the case, your estimated customs fees will be calculated at checkout before completing your order.
Below is an example of an estimate: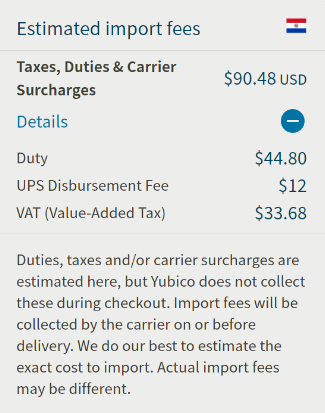 Local reseller
Our mission is to make the YubiKey available to as many people as possible, and you may have other options than Yubico.com. You may choose to purchase through a local reseller instead of importing our products yourself. If a local reseller is nearby, you'll find them in our Reseller locator.
For any additional questions, please submit a ticket to our Customer Support team.