My Yubikey is not functioning correctly
If your YubiKey has stopped working, there are a few troubleshooting steps to try.
Test your YubiKey

here

and

here

to see if the YubiKey can authenticate with our demo page. If it does work across both of these demos, then the issue you're experiencing is likely with the service, itself.

Please note if the lights on the YubiKey appear when you insert the YubiKey into your device. If no lights appear at all, this

could

be an indication that something is wrong with your key.

See if your device is detecting the key when it is inserted. Here are the instructions on where to find that, depending on which operating system you are using.

Mac:

> About This Mac > System Report > Hardware > USB

Windows: Settings -> Bluetooth & other devices section

Linux: The Terminal command

lsusb

should produce output including

Yubico.com

if the key is detected. However if you are using a FIDO-only device (e.g. Security Key or YubiKey Bio), you will need to follow

these instructions

first. Below is an example screenshot of

lsusb's

output when a key is detected

.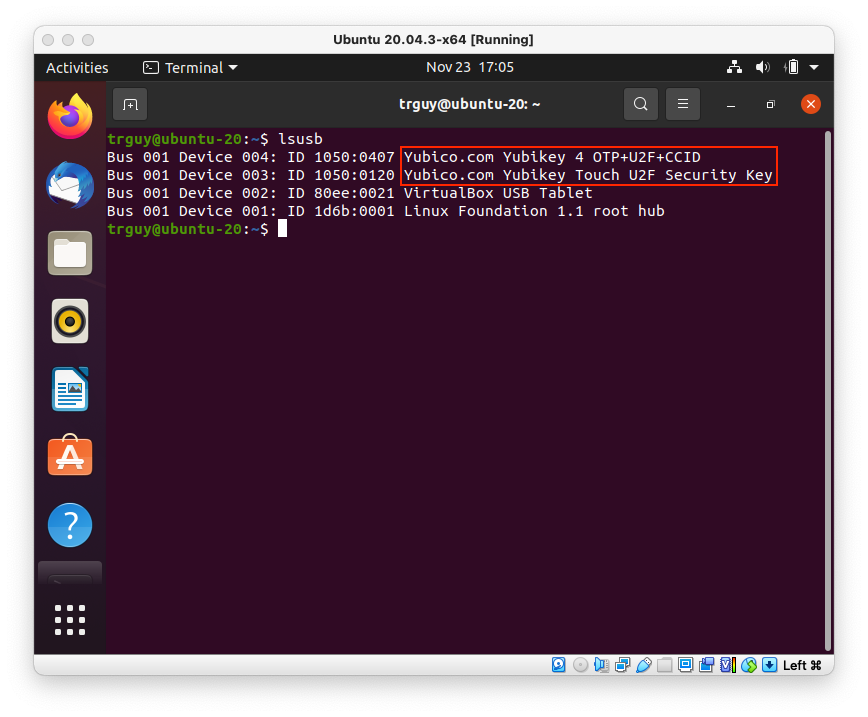 If the demo page isn't working and your device is not recognizing your key, then please create a support ticket so we can assist further.
You can see if your key is covered by warranty here.
My YubiKey has physical damage
Our product's quality is top of mind for us and if your YubiKey is damaged we ask that you submit a support ticket with the following information.
Photos of the damaged YubiKey

The order number or copy of invoice from when you purchased the YubiKey.

A valid shipping address in the event we send a replacement YubiKey to you.
Please note that if you purchased your YubiKey through an authorized reseller that we ask you please contact them for a replacement key. If you are unable to contact them then please submit a support ticket to Yubico and include the information above.

You can see if your key is covered by warranty here.